Hello Friends -
It has been a long while since I have posted and I have to do a better job about getting around to this stuff sooner to keep you all informed about what is going on in the Miracle Mile world!
First of all... Mother's Day is coming up very soon.  We will be open on Sunday, May 12th for Mother's Day Lunch, starting at 11am at BOTH Miracle Mile locations.  We will have our normal menu, no set menu, no crazy Mother's Day prices.... just the usual, awesome Miracle Mile quality that everyone loves!  Miracle Mile is truly the perfect Mother's Day destination for the entire family!  No reservations are required or any special arrangements need to be made beforehand..... Just come on in and enjoy a special family day and treat Mom to a great lunch that she truly deserves!  Please contact either convenient Miracle Mile location if you have any questions or concerns about Mother's Day hours... or email us at info@miraclemiledeli.com.
If you are looking for a nice Mother's Day Gift, but don't have any idea where to start... why not a Miracle Mile Gift Card?!?  Denominations of any size are available and a great way to thank Mom for all that she does for you throughout the year!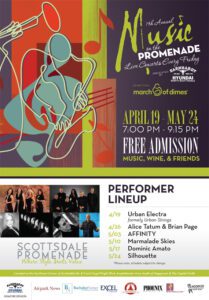 If you are looking for something fun to do on Friday Nights during the next few weeks, be sure to check out the "Music On the Promenade" Concert Series that just began.  Every Friday from 7pm-9pm (through May 24th), at the Scottsdale Promenade Ampitheatre, FREE LIVE MUSIC will be playing, by some of the Valley's best local artists.  Be sure to stop by Miracle Mile at the Scottsdale Promenade for dinner before the show.... or if you are running a bit late, call in your order and we will have it ready for you to take out and you can take it with you to the concert and enjoy a great meal while listening to some great music in a relaxing atmosphere!  The Promenade hosts will also be raffling off a Miracle Mile gift card at the weekly concert... so be sure to sign up at the host table for your chance to win a great gift card!
With the summer months just around the corner, it's getting too hot to cook!  Be sure to stop in at either of our convenient Valley locations to pickup dinner on your way home for the whole family so that you can relax when you get home and not have to worry about cooking!  Be sure to check out our new salads, sandwiches and burgers on our menu! These new items are perfect summer specials that will satisfy anyone's craving!
Hope all is well with you all and get ready for the heat!  Hear it comes!