Hello Everyone!
Please join us this Monday, October 26th, 2015, as we celebrate National Pumpkin Day!
We are celebrating at our new location on 16th Street & Campbell with a very special offer for our customers!  Enjoy a pint of Leinenkugel's Harvest Patch Shandy, our new Caramel Pumpkin Spice Milkshake, OR a slice of fresh Pumpkin Pie for ONLY $2 with the purchase of a sandwich or entree.  Limit 1 pint, 1 shake or one slice of pie per customer please.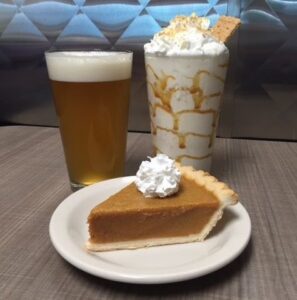 This is a very exciting time of year for us as the weather changes and we are now able to feature these new items as a part of our incredible menu!  The Harvest Patch Shandy is a very nice brew that brings out the best the of Fall season! It's a traditional Weiss beer that blends a natural pumpkin spice flavor and gives notes of nutmeg, allspice and clove for a refreshing Fall refreshment.  It's crisp & smooth like a perfect Fall day!
Our Caramel Pumpkin Spice milkshake is a blend of Shamrock Farms Vanilla Ice Cream that we use for a base.  We add all natural pumpkin spice flavor, caramel and top if off with whipped cream & graham cracker crumbs. It's probably one of our best shakes yet honestly.
Classic Pumpkin Pie is a very popular pie that we actually carry year-round because of customer demand…. But of course during the Fall/Winter season, it is a favorite for almost everyone!
All of these items will be available for $2 with the purchase of a sandwich or entree on Monday, October 26th!  Our hours of operation on Monday are from 10:30am - 8pm.  Of course we will have our regular menu, featuring our famous Pastrami, Corned Beef, Brisket, Hungarian Style Stuffed Cabbage and so much more!
Be sure to stop by and take advantage of this special offer and celebrate National Pumpkin Day with the whole family!
Hope to see you all soon!!