Join us on Saturday, November 28th, 2015 as we celebrate 2 very special occasions!  The first event we are celebrating is National French Toast Day! We are celebrating this very special holiday by giving away a FREE order of our incredible Challah French Toast with the purchase of any 2 breakfast entrees!  Breakfast is served at Miracle Mile every weekend (Saturday & Sunday) from 7am - 11am.  This special offer is ONLY valid on Saturday, 11/28 from 7am - 11am!  All you need to do is purchase 2 breakfast entrees and tell the cashier at the time of ordering that "I Want My Free French Toast"... and BAM... You got it!  Feel free to let us know if you have any questions about this very special offer!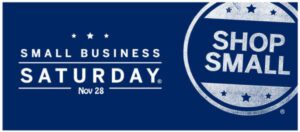 The second event that we will be celebrating on Saturday 11/28/15 is Small Business Saturday!  This event is sponsored by American Express but really encourages patrons to "Shop Small" and support local businesses.  We are a participating business of this special event and are proud to be a local business that has succeeded in the Valley for the last 66 years!  For more information about Small Business Saturday, go to www.shopsmall.com and see what other participating businesses are taking part in this special event!
We hope you all enjoyed a great Thanksgiving Day with your families and look forward to seeing you this weekend!