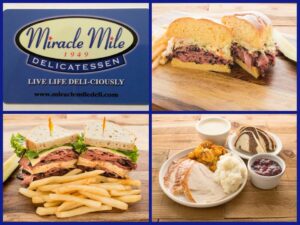 Happy Holidays To Everyone!
It's not too late to take advantage of our holiday gift card special!
Purchase $100 in Miracle Mile Gift Cards and receive a FREE Bonus $20 Gift Card!
 It makes the perfect stocking stuffer and it truly is the perfect gift for your "foodies" that are in your lives!  This offer does expire on December 31, 2015, so hurry in before it's too late!
If you cannot get to our Phoenix location, feel free to give us a call and we will send your gift card to you via post if you would like.
All of us at Miracle Mile would like to wish you and your family a very happy & healthy holiday season, as well as a Happy New Year!  Being a local family business, we believe family time is very important. We will be closing at 4pm on Christmas Eve and will be CLOSED on Christmas Day in observance of the holiday so that we can all spend some extra quality time with our families.
New Year's Eve, we will also be closing at 4pm and we will be CLOSED on New Year's Day as well!
As always, we truly appreciate all of your support and love, and we wish you all of the best in the upcoming year!
Hope to see you all very soon!
- Josh