It is really the most wonderful time of the year. I am not really sure WHY we only seem to make it point to enjoy family and friends on a consistent basis with joy only once or twice a year, but this just seems to be the time when everyone makes it a point to get together, take a break from reality for a bit and enjoy each other's company with food & drinks. It's a great time at Miracle Mile too, so be sure to think of our incredible party tray assortment for your upcoming holiday gathering. We can do everything from beautiful meat trays, bountiful salads and don't forget about our delectable dessert trays. Our variety is guaranteed to satisfy everyone's craving for a great meal during the holiday season to be sure to check out our "Catering" link and give us a call to place an order!
Please remember to take advantage of our FREE GIFT CARD OFFER TOO! Now through December 23rd, purchase $100 in Miracle Mile Gift Cards and draw a FREE BONUS GIFT CARD out of our special basket (see below) that could range in value from $20 to $100! You can keep the bonus card for yourself OR use it as another gift for a friend or family member! Miracle Mile Gift Cards are the perfect present to satisfy everyone's craving for a great meal… So be sure to drop on by and pickup a few today and take advantage of our special offer through the end of the year!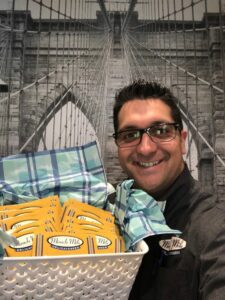 We will also be featuring a great Hanukkah Special from December 22nd – December 30th! Our Hanukkah Special includes a plate of our famous Brisket of Beef, a fresh potato pancake served with applesauce and sour cream, plus a cup of our homemade matzoh ball soup… ALL FOR ONLY $14! So be sure to make us a part of your Hanukkah festivities and stop on by for some of our favorite items! If you are having a large gathering at home or office, feel free to call us and we can take care of the brisket by the pound, as well as potato pancakes & matzoh ball soup in large quantities.
We value our Miracle Mile family having quality time to spend with their own families around the holidays. So we will be closing early at 4pm on Christmas Eve & CLOSED on Christmas Day. We will also be closing at 4pm on New Year's Eve and be CLOSED on New Year's Day. We wish you all a very happy & healthy holiday season and thank you all for your support & patronage to our family establishment!