We know it's hard to believe that it's time to start planning for your holiday feasts!  Miracle Mile has got you covered so that you don't have to lift a finger if you don't want to do a thing for your Thanksgiving gathering.  From family meals to individual dinners, sides & pies, we've got everything to satisfy everyone's craving for a fantastic meal!
This year, quantities will be limited and we will be taking orders beginning on Tuesday, November 1st via PHONE ONLY! We want to speak to our customers directly to ensure that we get everything correct with your order and nothing gets "lost in translation" with any online orders.  You can reach us at 602.776.0992 to place your order!
We will require payment information in advance for all orders at the time that the order is placed... but the orders will not be charged until the day the order is picked up.  We will be CLOSED ON THANKSGIVING DAY, so ALL orders will need to be picked up no later than 6:30pm on Wednesday, November 23rd. We will provide heating instructions for all items that need to be reheated so that you can ensure that all of your hot items taste perfectly!
Take a peek at the menu below and give us a call at 602.776.0992 in any way!
Thanksgiving Family Feast (Serves 6 People) - $225
3 lbs. of oven roasted white meat turkey breast, 2 quarts of homemade
mashed potatoes, 1 quart of homemade gravy, 1 quart of homemade stuffing,
1 pint of cranberry sauce, 1 quart of homemade cole slaw,
1 quart of baked macaroni & cheese, 6 Kaiser Rolls & 1 Whole Pie (see options below)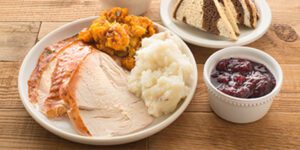 Oven Roasted Turkey Dinner - $19
White meat or dark meat served with homemade mashed potatoes & gravy, stuffing, cranberry sauce, Rye bread & butter.
Quart of Homemade Mashed Potatoes - $14
Serves 3-4 people
Quart of Homemade Gravy - $14
Serves 3-4 people
Quart of Homemade Stuffing - $14
Serves 3-4 people
Quart of Homemade Cole Slaw, Potato Salad or Pasta Salad - $14
Pint of Cranberry Sauce - $8
Serves 3-4 people
Hot Pastrami - $35 p/lb.
Serves 3-4 people
Hot Brisket Of Beef - $32 p/lb.
Serves 3-4 people
Signature Kaiser Rolls or Onion Rolls - $18 p/dozen
Large Loaf of Rye Bread - $18
24 Slices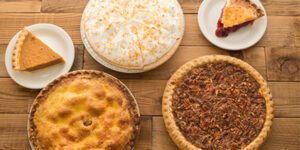 Whole Pie - $16
Pumpkin * Pecan * Lemon Meringue * Boston Cream Coconut Meringue * Apple * Cherry
Atomic Horseradish - $8 per pint
We wish you a very happy & healthy holiday season and look forward to hopefully having an opportunity to serve you and your family soon!  If you have any questions or concerns about any of our menu items listed above, please give us a call at 602.776.0992 and let us assist in making your Thanksgiving preparation easier this year!