During the month of September, Miracle Mile will be celebrating their "September of Salads" Special…. featuring a different Miracle Mile Signature Salad each week during the month of September for ONLY $10!
September 6-11: The Fiesta Salad will be on special for ONLY $10*!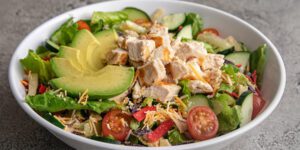 The Fiesta Salad features: Chopped romaine, grilled chicken breast, avocado, red onions, grape tomatoes, asadero jack & cheddar cheese, and tricolor tortillas strips, all tossed with our homemade chipotle ranch dressing.
September 13-18: The Melvin Salad will be on special for ONLY $10*!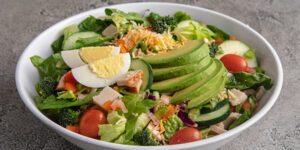 The Melvin Salad features: White meat turkey breast, chopped romaine, red cabbage, shredded carrots, asadero cheese, grape tomatoes, bell pepper, red onion, broccoli, hard boiled egg & avocado and tossed with a dressing of your choice!
September 20-25: The Aloha Salad Salad will be on special for ONLY $10*!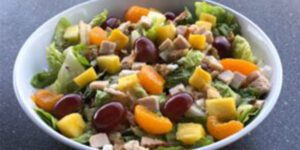 The Aloha Salad features: Chopped romaine, Feta cheese, turkey, walnuts, pineapple chunks, red grapes & Mandarin oranges tossed with our Apple Cider Vinaigrette. It's light and perfect for warm weather eating.
September 27-30: The Asian Crispy Chicken Salad will be on special for ONLY $10*!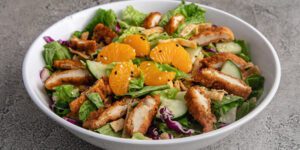 The Asian Crispy Chicken Salad features: Romaine, Crispy White Meat Chicken Breast, Shredded Carrots, Red Cabbage, Crispy Wonton Noodles & Sesame Seeds tossed with an Asian Sesame Dressing.
*$10 Special price does not include tax. Salads available for Dine-In & Take Out. Special prices not available on Postmates or Uber Eats delivery. No substitutions please. See store manager for details.
We thank you all for your continued support and encourage you to support local businesses and restaurants during these times. We all need you right now and cannot survive without you. Thank you for being such incredible patrons of our family establishment and we look forward to serving you soon!
BURGER MONTH HAS ARRIVED AT MMD!
We are extremely excited to feature one of our signature burgers at a special price of ONLY $11 each week during the month of April!
CLICK HERE to see our featured burgers and be sure to take advantage of this special month and experience a new Miracle Mile Burger each week!
Order online at www.miraclemiledeli.com, call 602.776.0992 and place your order over the phone, or come into our location at 16th Street & Campbell and dine in with the entire family.
We truly appreciate your support and look forward to serving you soon!
Easter Specials are here for you to enjoy!
CLICK HERE to see what we are doing this year for you the fam to celebrate Easter together in the easiest way possible.
We will be CLOSED EASTER SUNDAY, so all orders will be available for pickup anytime on Saturday, April 3rd, from 11am - 7pm.
Give us a call at 602.776.0992 to place your order! We will have a link on our online ordering page soon to place your orders online, but for now, please give us a call at your convenience, ask for Josh and he will be glad to take your order via phone.
We wish you all a very safe & happy holiday together!
Hey Guys -
THE BIG GAME is coming up in a couple of weeks and there's a lot of partying to be had! Everyone will probably be doing the "pizza & wings" thing for their parties... but make yours unique and fun with catering from Miracle Mile! Be sure to visit the CATERING link on our website and check out all of the awesome sandwiches, sides & sweets that we can deliver to your party site! Let us do ALL of the work so you can just sit back, relax, enjoy the company and some fantastic food!
There's really no need to anything yourself when we can do it all! Give us a call at 602.776.0992, ask for Josh and let us handle the rest. We can cater parties from 8 people to 800 people so there's really nothing we can't handle. Give your guests the quality food they deserve! Nothing is fresher or tastier than what we can deliver!
We will be closing at 4pm on BIG GAME SUNDAY but we will still be able to deliver any orders before kickoff without a hitch. Let us know how we can help and make your BIG GAME SUNDAY that much more enjoyable!
Hope to hear from you soon!
Hey Everyone!
Stop by Miracle Mile and join us this weekend for breakfast as we celebrate "National Blueberry Pancake Days"! We will be celebrating this National holiday by offering a stack of our signature Blueberry & Candied Walnut Pancakes for ONLY $6 this Saturday & Sunday ONLY (1/26 & 1/27).
Our breakfast hours are from 7am-11am on Saturday and Sunday, so be sure to stop by with the whole family and take advantage of this very special offer! Our Blueberry & Candied Walnut Pancakes are created using only the freshest blueberries and our own oven roasted candied walnuts. We combine both of those items in our signature pancake batter and it is by far one of the tastiest pancakes you will ever try!
We are only featuring this offer January 26th & 27th from 7am-11am! So hurry in this weekend, come hungry and celebrate this special holiday with us!
Hope to see you soon!
- Josh
Hello Everyone!
We wanted to inform you about some fun and exciting events that we have planned at MMD in May! So many events throughout the month of May that we just decided to call it "Miracle Mile May"!
Beginning May 1st through Father's Day, we will be running our "Teachers, Moms, Dads & Grads" Gift Card Special! Purchase $100 in Miracle Mile Gift Cards and you get to pick a BONUS Gift Card out of our "mystery basket" that has gift cards ranging in value from $20 to $100! MMD Gift Cards are the perfect universal gift for every Teacher, Mom, Dad or Grad on your list… and now there's even a perk for you for buying the gift!
On Thursday, May 10th, we will be celebrating a BIG DAY at Miracle Mile! The City of Phoenix has proclaimed May 10th as "Miracle Mile Deli Day" in The City of Phoenix. This year marks our 69th year of serving the Valley, and The City of Phoenix has honored our business by creating a day that is ours! We will be celebrating by raffling $100 gift cards every hour on the hour, and donating a portion of the proceeds to a local nonprofit called Feeding Matters. Feeding Matters has been a huge supporter of our business and my family. We wanted to take this opportunity to give back to the community and thank them for all of the support that we have received for the last 69 years.
Also, if you were born in 1949 and have a valid proof of identification to show us, you will receive our famous Pastrami Sandwich for ONLY 69 CENTS (Limit 1 per person please)!
Sunday, May 13th is MOTHER'S DAY! So be sure to bring Mom in and celebrate her by bringing her to Miracle Mile for Breakfast, Lunch or Dinner! It's very important to say "Thank You" to some of the most important women in our lives.
So be sure to stop by and celebrate all of these special holidays with us and take advantage of our special gift card offer now through Father's Day! Thanks so much for all of your support and we look forward to seeing you all soon!
Kind Regards,
Josh
Miracle Mile will be CLOSED on Saturday, July 4th in observance of our nation's Independence Day.  We will reopen on Sunday, July 5th at 7am for Breakfast!  Miracle Mile's operational hours will resume as normal, with breakfast being served from 7am - 11am.  Lunch will begin at 11:15am and we will close at 8pm on Sunday as usual.
We wish everyone a very happy and safe July 4th!
It's the most wonderful time of the year!!! At least for us it is!! Next weekend, March 15th, 16th and 17th, we will be serving up The Valley's BEST Corned Beef & Cabbage for St. Patrick's Day Weekend!  A generous portion of lean corned beef, freshly steamed cabbage, boiled Irish potatoes and of course.... you have to wash it all down with a traditional bottle of Guinness Beer!  If you are planning an early St. Paddy's Day Party at the office and want to celebrate on Friday, feel free to give either Miracle Mile location a call and we will be more than happy to package up this scrumptious meal for takeout as well!! Having a party on Saturday and/or Sunday??? No St. Paddy's Day Party is complete without this traditional meal... so be sure to include us as a part of your celebratory weekend.  If you are looking for a more relaxed atmosphere and are looking to avoid the bar scene, Miracle Mile is the PERFECT PLACE to enjoy a traditional St. Paddy's Day meal with the entire family! BOTH locations will be open until 8pm on Friday, Saturday and Sunday...with Corned Beef & Cabbage being served ALL DAY, from Open to Close, on all 3 days!
Don't settle for that imitation Corned Beef & Cabbage that some places pretend to be "authentic".  We don't settle for anything at MMD and we only serve the real deal!  Call either Miracle Mile location for more details or inquiries!  Thanks for reading and have a very Happy and Safe St. Patrick's Day!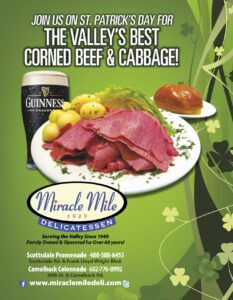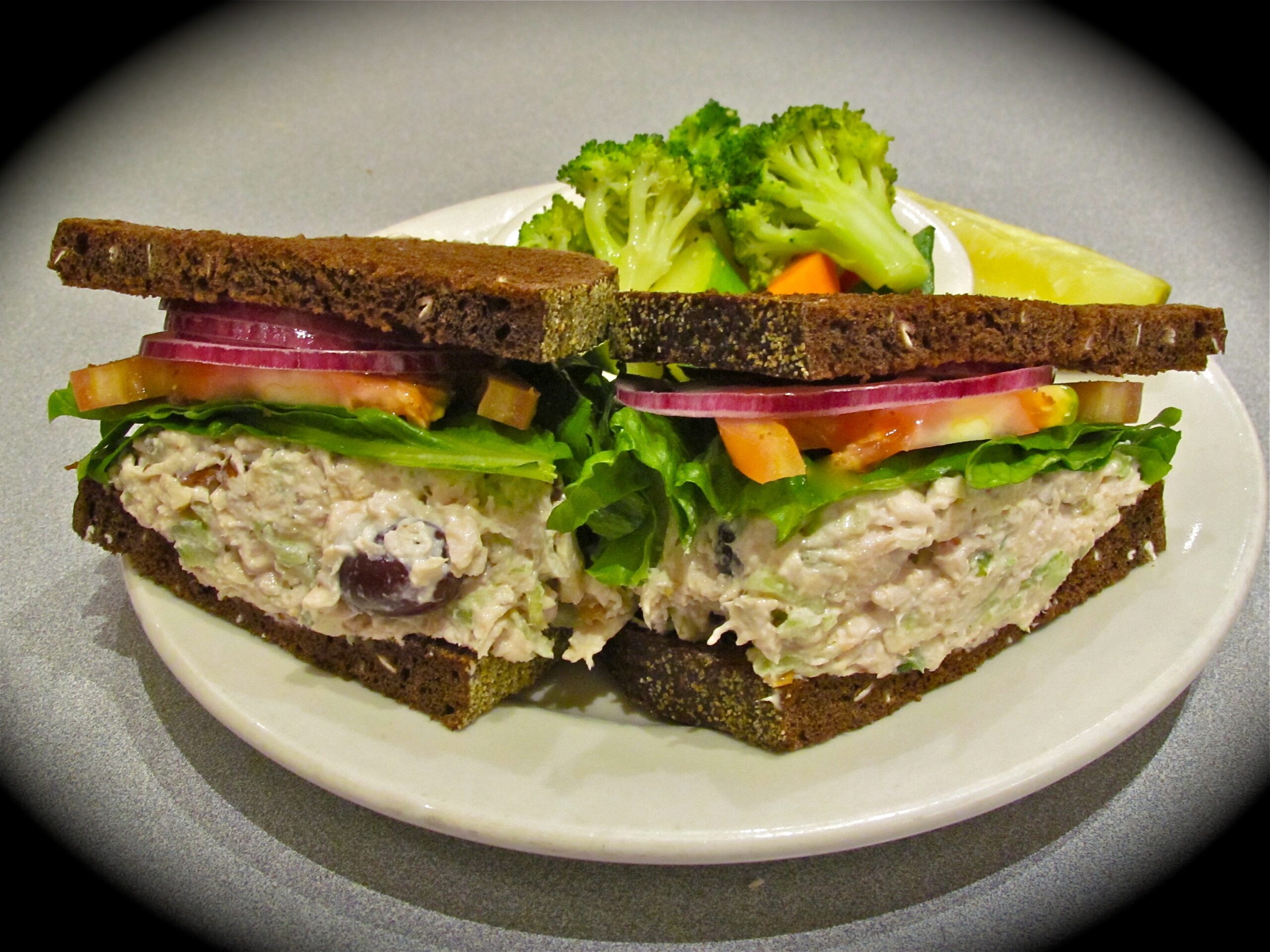 Hey Everyone -
Check out this week's awesome sandwich special... The Scrumptious Chicken, Walnut & Grape Salad Sandwich!  For this week only, get this fantastic sandwich served on your choice of bread, a side item and a tasty pickle for just $6.99! This offer expires Sunday, November 4th, so be sure to stop in this week at either convenient Miracle Mile location to take advantage of this special offer!  Offer is valid for Dine-In & Takeout and no coupon necessary.  Hope to see you this week!