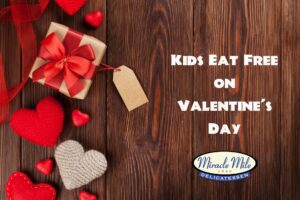 Well… that time of year of officially arrived.  The day that some people love (it's my mother's favorite "holiday"), and the day that some people despise.  VALENTINE'S DAY!!  We have a special promotion to celebrate a Valentine's Dinner with the whole family… rather than spending a ton of cash at a fancy restaurant with overpriced food and a set menu. Kid's will EAT FREE with the purchase of any sandwich or entree purchase!  1 free kid's meal (children under 12 please) per sandwich or entree purchase.  This special will be taking place from 11am-7pm on Monday, February 14th at Miracle Mile! So be sure to stop by and celebrate the special day with the entire family!
Miracle Mile really is the ideal place to share this special holiday with the entire family.  No Set Menu. No Outrageous Prices.  Just quality food, a relaxed ambiance and a friendly staff to take care of you while you dine!  If you would rather enjoy Valentine's Day at home, stop by and pickup some food for takeout so you don't have to cook or do any dishes!
After Valentine's Day is over, we get to focus on Spring and St. Paddy's Day (Miracle Mile's Favorite Holiday)!  We aren't too far away from celebrating St. Paddy's Day.. March 17th!  It falls on a Thursday this year (somewhat the middle of the week)… so if you aren't planning on getting too crazy, Miracle Mile is the perfect place for a great work lunch or family dinner to celebrate the special day!  Keep it in mind…. I know I am a little premature about mentioning the holiday, but it's just too exciting not to talk about in February!
Hopefully we will see you all in this week for our Valentine's Special!
Once again, Happy Valentine's Day to you all and hope to see you soon!
- JG
Hey Everyone!  Well… Summer has officially arrived! School is out, the weather is definitely warm, and swim suit season has begun.  The Miracle Mile Team is constantly searching for new ways to revamp our menu for the seasons.  This Summer, we are introducing a few new items for the Summer that should get those "Salad Lovers" and "Healthy Eaters" something to chat about...
The Fiesta Salad (pictured above on the left), is an incredible salad that our staff fell in love with! We hope you do too… With fresh romaine, cucumber, tomato, grilled chicken, red onion, avocado, and tricolor tortilla strips..ALL tossed together in a homemade chipotle ranch dressing, this salad contains a lot of color and a bite!  With loads of flavors and color, this salad is truly a party for your mouth… hence the name, "Fiesta Salad".
The Manhattan Kale Salad (pictured above on the right), is another very flavorful salad that is both delicious and incredibly healthy!  Fresh kale, cucumber, tomato, feta cheese, breadcrumb and tossed with our Balsamic Vinaigrette dressing, this salad has more iron than beef… and did I mention that it's both tasty and healthy?
We will be rolling these new salads out, as well as some of other new menu items very soon!  Miracle Mile will also be adding a new chicken breast sandwich, The Brooklyn Chicken,  a new version of an old favorite, Papa's Club, and an awesome NEW BURGER WITH PASTRAMI ON IT called The Mile Burger.  Stay tuned for more information on these great new items.
Celebrating our 65th Year of Business this year, it's seemingly difficult to get people to try new things at our establishment.  It seems that most of our customers are so used to ordering the same thing on our menu, (i.e. The Straw, The New Yorker, The Combo) that they forget that we offer a wide variety of options… Phenomenal Burgers, Fresh Salads & Homemade Entrees are just a few of our various menu items that we typically aren't known for, simply because people are a creature of habit and like to order what they know that they already love.  I am the same type of person when I go out to eat, so I cannot blame most of our customers for ordering like that…but for some reason, it's still a very interesting psychological "people characteristic" to analyze as a business owner.  TRY SOMETHING NEW PEOPLE! 🙂
My next blog will feature some more fantastic menu items, so be sure to stay tuned!  Happy Eating!
JG
Hello Everyone!
I am VERY pleased to announce that the NEW MIRACLE MILE MENU HAS  FINALLY ARRIVED!  Beginning today, we have 11 NEW MENU ITEMS...              New Sandwiches, New Salads, New Healthy Options & New Burgers!  This is pretty much the first time in a long time that we have made these changes to our famous Miracle Mile Menu.... but I thought we were do!
The New Sandwiches include the Turkacado, TurkeyCran, Classic BLT, Bronx Chicken Sandwich, and The Times Square Cheesesteak (yeah say that 3 times really fast without saying "cheesecake")! Times Square Cheesesteak, Times Square Cheesesteak, Times Square Cheesecake.... Damn!  Okay... onto the salads!
The New Salads include The Staten Island Salad, The SoHo Salad, and the Straight Up Chicken Caesar Salad! 
The New Burgers include the Broadway Burger, The Empire State Burger, and the Ellis Island Burger!
Although I am not going to go into detail on all of these items because I honestly want you to explore the site for yourself and find them and salivate over the descriptions, I can honestly say that I am very proud of the new items and have a lot of confidence in saying that I think that they all bring a new value to our menu and I am very excited for you all to try them.  Approximately 80% of our customers already know what they are going to order for lunch or dinner before walking into our establishments because they have been going to Miracle Mile for most of their childhood and adult lives... However I think these new menu items will hopefully develop into new favorites for both new and longtime customers!
By frequent customer request and after several product tests, we found a consistent avocado that is fresh and that will accompany our sandwiches and salads nicely!  Although this product is often expensive and difficult to maintain, we have been working diligently with our produce suppliers to find a great avocado that we will be proud to serve consistently...because Miracle Mile is built on consistently and we NEVER want to disappoint our customers... EVER!! A very exciting and tasty addition to our menu for sure!
Several of our new menu items include other items that we have had on our Miracle Mile Menu for several years.  However we have been working on mixing some items together and making the most of the quality that we serve on a daily basis!  Several minds have been working on this menu for some time now and we are very happy that the time has come to be able to share with you all. I would like to extend a special THANK YOU to Albert Stolarski and his "handy helper", Mr. Jacinto, at Albert's Signworks Inc. for all of their help with creating the new menu boards and putting up with our crazy Miracle Mile Family.  Albert has been working our family since 1996 and does amazing work with signs and other incredible pieces that any home or restaurant may need.  I would highly recommend him if you are in the need for any signage for any occasion.  And Thank You Mom & Dad for staying late and helping Albert & Jacinto late into the night!
I would also like to thank my management staff.... Troy, Roger, Rafael, Miguel, and Daly, for all of their patience and help with creating, perfecting and executing these new menu items for our customers! We are ready to play and share these exciting things with our customers thanks to you all!
We haven't done a lot of advertising these new items yet... but I would like to thank the "Power of Social Media" for helping us get the word out and allowing our customers to share their thoughts with us on Facebook, Twitter, Foursquare, Instagram & YouTube! You are all amazing people and we truly appreciate your feedback and sharing your MMD experiences with others.
Finally, I would like to once again thank my family.  Desi, Sophie and Jack... I work hard every day for you all.  You are my inspiration and my restaurant obsession and constant seeking for greatness is to make you proud! The foundation for a better Miracle Mile starts today and hopefully things only get better from this point forward!  Thank you for always supporting me and being there for me when I need you most.  Your love, hugs, kisses and laughs are the reason I love living every day.
Okay... I think I am done with all of my cheesiness for now. Meh!!!
Search the site... Come in and try the new items and enjoy! Let me know your thoughts when you have the chance! I look forward to hearing from you all soon.
Cheers,
JG