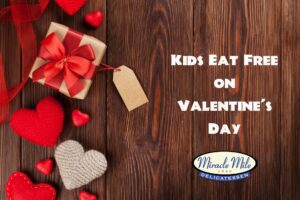 Well… that time of year of officially arrived.  The day that some people love (it's my mother's favorite "holiday"), and the day that some people despise.  VALENTINE'S DAY!!  We have a special promotion to celebrate a Valentine's Dinner with the whole family… rather than spending a ton of cash at a fancy restaurant with overpriced food and a set menu. Kid's will EAT FREE with the purchase of any sandwich or entree purchase!  1 free kid's meal (children under 12 please) per sandwich or entree purchase.  This special will be taking place from 11am-7pm on Monday, February 14th at Miracle Mile! So be sure to stop by and celebrate the special day with the entire family!
Miracle Mile really is the ideal place to share this special holiday with the entire family.  No Set Menu. No Outrageous Prices.  Just quality food, a relaxed ambiance and a friendly staff to take care of you while you dine!  If you would rather enjoy Valentine's Day at home, stop by and pickup some food for takeout so you don't have to cook or do any dishes!
After Valentine's Day is over, we get to focus on Spring and St. Paddy's Day (Miracle Mile's Favorite Holiday)!  We aren't too far away from celebrating St. Paddy's Day.. March 17th!  It falls on a Thursday this year (somewhat the middle of the week)… so if you aren't planning on getting too crazy, Miracle Mile is the perfect place for a great work lunch or family dinner to celebrate the special day!  Keep it in mind…. I know I am a little premature about mentioning the holiday, but it's just too exciting not to talk about in February!
Hopefully we will see you all in this week for our Valentine's Special!
Once again, Happy Valentine's Day to you all and hope to see you soon!
- JG
We have come a long way since this photo was taken over 30 years ago!  Again, I am very proud to say that we are celebrating our 65th Year of business in the Valley… We just had a family of 3 generations in our establishment, and it is just such a touching moment for me to see other families carrying on the Miracle Mile tradition with their own.
We have been fortunate enough to be serving the Valley families for six decades, and with that has come a lot of tradition for families to bring their children and their children's children to our establishment to satisfy their craving for a great family meal.  We are so fortunate to be a part of so many families lives, and it is always so great to hear about the fond memories that people have about our various locations that we have occupied.
Chris-Town is the location that I personally hear the most about.  I remember being a kid myself, doing my homework on a pickle bucket behind the dessert case after school while my parents finished up their work for the day.  When I got a little bit older, I came to work on Saturday mornings with my Mom and Dad at 7am, and worked with my Aunt Maria serving coffee to our breakfast diners!  I felt really cool being at work because none of my other friends were able to do that on a weekly basis with their parents. In time, I got to help out on the Hot Dog grill serving hot dogs, making fresh hamburger patties and smashing in between two pieces of wax paper with massive china plates… THOSE WERE THE TIMES!  I have very fond memories of Chris-Town and it was like a second home to me for several years of my childhood.
Now as a father myself, I get to share more memories with my children. I love it when they come to visit me at work because I remember going to visit my parents at work and how much I loved interacting with the other employees.  My kids do the same thing and I love to see that.  It's pretty fun to see how they interact at such a young age in an environment that  they feel comfortable in… much like I did as a kid at Chris-Town.
I would love to hear about some of your memories about Miracle Mile over the last 65 Years! Please feel free to comment on this blog or on Facebook & Twitter about your Miracle Mile memories and let us know what you love most about our business!
Thank you so much for reading and I hope to hear about some of your fondest Miracle Mile memories soon!
Happy Thanksgiving Everyone!  From our family to yours, we hope that everyone has a very happy and healthy holiday! Miracle Mile will be CLOSED on Thanksgiving Day so that our employees can share the holiday with their families.  We believe that there is a special time for family, and Thanksgiving Day is definitely one of those times.
As much as we would like to be open on that day to serve our Famous Oven-Roasted Turkey to our incredible customers, it has been a Miracle Mile tradition for 65 years that we all share that day with our families.  We will be open until 8pm at both locations to serve our customers.  We will serve over 400 pounds of our oven-roasted turkey on the day before Thanksgiving.  Turkey will be served on a first come, first serve basis, and typically all of the turkey has been sold by 6pm...so be sure to arrive early if you want turkey the day before Thanksgiving!
Freshly baked pies are also available for purchase! Please call either Miracle Mile location in advance to reserve ANY pie or cake for the special holiday.  Of course our pies and cakes are baked fresh daily and are far superior to most grocery store pies.  Pie varieties available include: Pumpkin, Apple, Pecan, Lemon Meringue, Cherry, Blueberry, Coconut Meringue and Boston Creme.  If you are in the mood for a BIGGER piece, perhaps consider one of our incredible Carrot Cakes, Chocolate Fudge Cake or New York Style Cheesecake as something a little different than the "norm".
Once again, we would like to thank our awesome customers for allowing us to serve the community for six decades, and wish you all a very Happy Thanksgiving!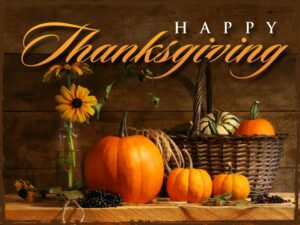 Hey Folks!!!  Guess what??? Miracle Mile Delicatessen's two convenient locations will be open all weekend, March 15-17, serving up the Valley's BEST Corned Beef & Cabbage for St. Patrick's Day!  Even Sunday, March 17th, St. Paddy's Day, we will be open until 8pm, giving our families the opportunity to enjoy this special holiday with the kids and avoid the crazy bar scene!  We will of course have our incredible Corned Beef & Cabbage Special, cold Guinness Beer bottles to wash it down with, and the awesome Miracle Mile service and atmosphere!  We hope you will make it a point to stop by next weekend and enjoy Corned Beef & Cabbage with us sometime....Friday 3/15 - Sunday 3/17!  If you have any questions, please contact either Miracle Mile location and spread the word of MMD's BEST DAY EVER!  Hope everyone has a very happy and safe St. Paddy's Day!  Hope to see you all soon!