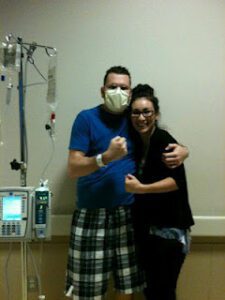 Sometimes in life, unfortunate things suddenly happen to us where we have to take a step back and focus on what is TRULY important in our lives.  Last week, a close friend of the Miracle Mile Family, John Poston, was diagnosed with  Acute Myeloid Leukemia. John is 29 years old and it is very rare for this disease to occur in people under the age of 40. John was a basketball and track star in high school, has an awesome 7 year old boy named Zach, and will be getting married to the love of his life in February. He has a heart of pure gold with a great sense of humor, even with him enduring this unplanned hardship.
John's incredible sister, Tiffany, is Miss Scottsdale 2012 and a great friend of the Miracle Mile Family.  She started a blog for John, FightForJohn.org, to update friends and family on John's daily undertakings as well as to assist with making donations to help make this medical diagnosis a lesser financial burden on the family.  To help John and his family even more, Miracle Mile will be hosting a fundraiser for John at BOTH of our locations (at Camelback Colonnade and the Scottsdale Promenade) on Thursday, August 9th, from 11am-8pm.  A large portion of the day's proceeds on that day will go to FightForJohn.org! The Miracle Mile Family would truly appreciate your support and dining with us on August 9th to help us support John and his wonderful family.
I have tremendous respect for John and being such an amazing positive role model for his entire family.  He has been a true source of inspiration (now dealing with chemotherapy on a daily basis) and we are so fortunate to be able to help and support John during his time
 of need.  Me being a father of two and the same age as John, I cannot imagine what he and his family have endured both physically and emotionally over the last week.  Let's work together as a "family" and help us support John on August 9th!  Thank you for reading and we look forward to seeing how much we can raise together in a few weeks!