We have come a long way since this photo was taken over 30 years ago!  Again, I am very proud to say that we are celebrating our 65th Year of business in the Valley… We just had a family of 3 generations in our establishment, and it is just such a touching moment for me to see other families carrying on the Miracle Mile tradition with their own.
We have been fortunate enough to be serving the Valley families for six decades, and with that has come a lot of tradition for families to bring their children and their children's children to our establishment to satisfy their craving for a great family meal.  We are so fortunate to be a part of so many families lives, and it is always so great to hear about the fond memories that people have about our various locations that we have occupied.
Chris-Town is the location that I personally hear the most about.  I remember being a kid myself, doing my homework on a pickle bucket behind the dessert case after school while my parents finished up their work for the day.  When I got a little bit older, I came to work on Saturday mornings with my Mom and Dad at 7am, and worked with my Aunt Maria serving coffee to our breakfast diners!  I felt really cool being at work because none of my other friends were able to do that on a weekly basis with their parents. In time, I got to help out on the Hot Dog grill serving hot dogs, making fresh hamburger patties and smashing in between two pieces of wax paper with massive china plates… THOSE WERE THE TIMES!  I have very fond memories of Chris-Town and it was like a second home to me for several years of my childhood.
Now as a father myself, I get to share more memories with my children. I love it when they come to visit me at work because I remember going to visit my parents at work and how much I loved interacting with the other employees.  My kids do the same thing and I love to see that.  It's pretty fun to see how they interact at such a young age in an environment that  they feel comfortable in… much like I did as a kid at Chris-Town.
I would love to hear about some of your memories about Miracle Mile over the last 65 Years! Please feel free to comment on this blog or on Facebook & Twitter about your Miracle Mile memories and let us know what you love most about our business!
Thank you so much for reading and I hope to hear about some of your fondest Miracle Mile memories soon!
Hello again my friends! I know it has been awhile and you thought I've disappeared off of the face of the earth... Not so fast!  We have been going through quite a few internal changes at Miracle Mile (all positive), so unfortunately, I haven't been able to be quite "on top of things" with keeping up with the blog as I would like to!
One of our great additions to our establishment is the implementation of a NEW WEEKLY SANDWICH SPECIAL!  We received a lot of feedback from our loyal customers in regards to having an incentive to try new things at Miracle Mile because a lot of our customers get into a routine and just order the same thing over and over again because they don't want to stray away from something that they already know that they like.  That being said, EVERY Tuesday, we will be rolling out a NEW $6.99 Sandwich of the Week that will be highlighted on our Craving Club emails (if you aren't a part of the Craving Club yet, signup on our homepage to receive all of our exclusive offers and news!), as well as on our website and in our restaurants!  Each week will be a different sandwich that we will highlight and give people the opportunity to try something NEW at a very reasonable price!
This is something that we have never tried before, but we are definitely looking forward to giving our customers the exposure to our wide variety of menu options that we offer...because we are MORE than just "Pastrami and Fries"!  We will also be introducing some NEW menu items as well in a few weeks so we will be keeping you posted on that as well as the time gets closer!  We will be rolling out some new salads and healthy sandwich options, as well as some new burgers and chicken dishes as well!  So this is a very exciting time for us as we head into our wonderful weather season!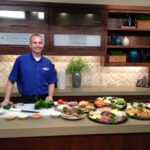 Troy Green on the set of Sonora Living!
Another exciting addition to our Camelback Colonnade team is our New General Manager, Mr. Troy Green! Troy has been an amazing asset to the Miracle Mile Team since August 2009! Troy was caring for our Scottsdale Promenade location for three years before his move to the Camelback Colonnade location was needed.  Troy has been in the restaurant industry for over 15 years and has been an amazing addition to the Miracle Mile Team!  His restaurant knowledge and love for the industry and our Miracle Mile family makes him a true team player and a vital ingredient to making our establishments function at 100% efficiency on a daily basis! Troy is originally from Nebraska, but moved to Phoenix and worked with several different restaurants before coming to the Miracle Mile Team.  We are sure happy that he decided to be a part of our family in 2009, and so thankful for everything he has done for our estabishments.  Be on the lookout for Troy's smiling face at the Camelback Colonnade location Tuesday through Saturday! 
Thanks for reading and we look forward to seeing you all soon!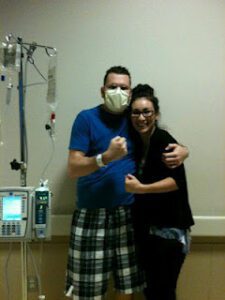 Sometimes in life, unfortunate things suddenly happen to us where we have to take a step back and focus on what is TRULY important in our lives.  Last week, a close friend of the Miracle Mile Family, John Poston, was diagnosed with  Acute Myeloid Leukemia. John is 29 years old and it is very rare for this disease to occur in people under the age of 40. John was a basketball and track star in high school, has an awesome 7 year old boy named Zach, and will be getting married to the love of his life in February. He has a heart of pure gold with a great sense of humor, even with him enduring this unplanned hardship.
John's incredible sister, Tiffany, is Miss Scottsdale 2012 and a great friend of the Miracle Mile Family.  She started a blog for John, FightForJohn.org, to update friends and family on John's daily undertakings as well as to assist with making donations to help make this medical diagnosis a lesser financial burden on the family.  To help John and his family even more, Miracle Mile will be hosting a fundraiser for John at BOTH of our locations (at Camelback Colonnade and the Scottsdale Promenade) on Thursday, August 9th, from 11am-8pm.  A large portion of the day's proceeds on that day will go to FightForJohn.org! The Miracle Mile Family would truly appreciate your support and dining with us on August 9th to help us support John and his wonderful family.
I have tremendous respect for John and being such an amazing positive role model for his entire family.  He has been a true source of inspiration (now dealing with chemotherapy on a daily basis) and we are so fortunate to be able to help and support John during his time
 of need.  Me being a father of two and the same age as John, I cannot imagine what he and his family have endured both physically and emotionally over the last week.  Let's work together as a "family" and help us support John on August 9th!  Thank you for reading and we look forward to seeing how much we can raise together in a few weeks!
People often ask me if I was "forced" to come into the family business or if I ever felt "obligated" to take over the restaurants.  My response is the same to everyone..."No".  My parents never pressured me to come into the family business or tried to convince or bribe me to do it. Coming into the family business was 100% my choice.
I feel fortunate to be able to say that my parents never pressured me to join the family business because I know that there are many people out there that aren't given a choice...Some aren't even able to further their education or follow a dream because they are forced by their parents to do something "that they were born to do".  In some respects, I feel like I was born to run the family business at some point in my life.  I am an only child and really the only person of my generation in my family that came into business after college.  I graduated from a university with a degree in Business Administration.  I had the opportunity to work overseas for a very well-established worldwide brand, and explore other employment options before coming "home".  Thing is, I always felt comfortable behind the counter, taking care of customers and becoming a Miracle Mile staff member at a very early age.
I have vivid memories of taking a bottle of Windex and paper towel and cleaning the dessert and deli cases at our Chris-Town location.  Sitting on a pickle bucket behind the counter and doing homework while my mom finished a catering order late in the afternoon was also an often occurrence for me.  While I thought this was considered "normal", I learned later in life that it obviously was not.  However, that was my upbringing and I was always around the family business because my parents were always around the family business...because of their hard work and dedication, Miracle Mile is still around today!
When my grandfather (my mother's father and the founder of Miracle Mile) was at the age that most people are looking to retire, it was my parents who stepped up and took the family business to another level!  They worked thousands of early mornings and late nights, which was why I was at the Chris-Town location often growing up.  But it was fun for me, as a kid, having a really cool business as a fun "playground" of sorts and having an extended family of great employees that accepted and loved me as their own.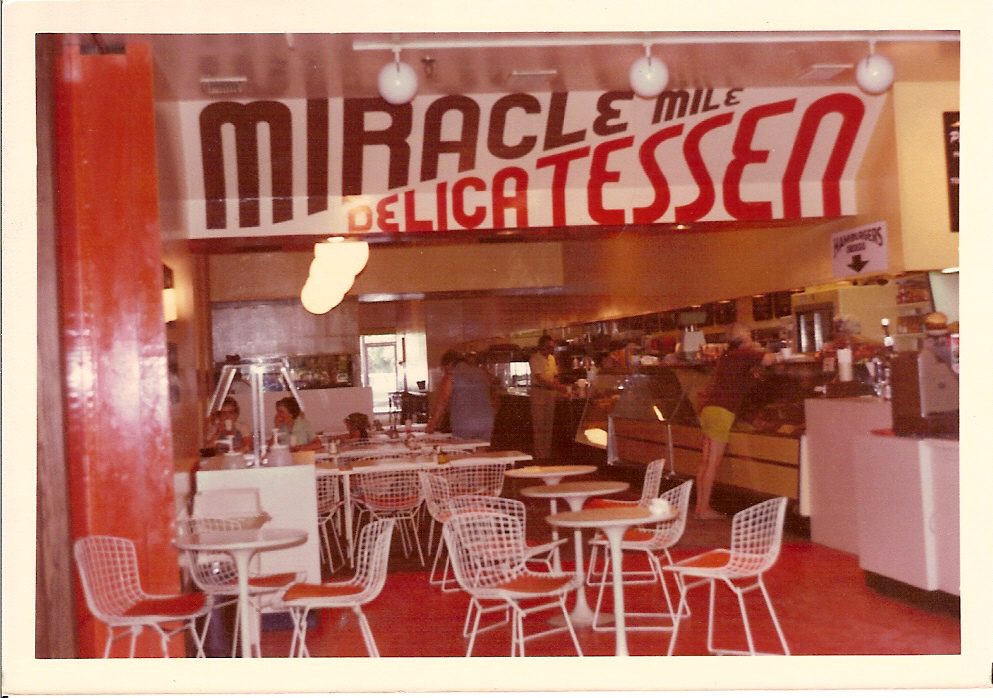 (The photo above is the Miracle Mile location at Chris-Town Mall circa 1980!)
I think having that experience as a child, constantly being around the family business, getting to know our regular customers at an early age, standing next to my Aunt Maria while serving coffee behind the counter on Saturday mornings (while standing on a milk crate to see over the counter), are all a result of why I love the business that I chose as my career.  Now having children of my own, I know how hard it must have been for my parents to run a successful business while also attempting to establish a strong family foundation as well.
The restaurant business is by far one of the toughest businesses out there, and finding that balance between work and family is quite difficult.  I have an incredibly supportive wife (that isn't a part of the business now because she has the toughest job in the world in taking care of our two children) that knows how hard I strive to make our family business successful everyday.  Creating the time for the business and making the time for family I am learning is just as important. I know that my parents didn't have much of a choice other than to bring me back to work with them after picking me up from school, but them doing that gave me an appreciation at a very early age of what they did on a daily basis and how hard they worked.
I wouldn't recommend family members to start a new business together because it takes a special family to do so.  I am not saying that my family is perfect by any means because we have our daily battles on business decisions as well.  However, without a true appreciation and definition of what each person's role is, problems can arise very quickly on several different spectrums. (A word from the wise: Remember that the family relationship is always more important than the business relationship between family members.)  My grandfather told me something at an early age because people were constantly telling him how he should change the business and it drove him nuts.  He said, "Josh, ANYONE who eats thinks that they can run a restaurant!" I didn't really understand what he meant until I came into the business and was running our Arrowhead location.  Some people wish to express their opinions of how you should operate things or change menu items which is all fine.  Let them say their peace.  However, it is what YOU truly believe and what your heart tells you that really matters.
I am blessed to have the opportunity to now operate the family business and I hope that I can take it to another level in the near future. I am fortunate to have an incredibly supportive family and staff that knows how hard it is to run a business and are willing to do whatever it takes to ensure that the business is successful. As I mentioned earlier, I was never forced to come into this business, but me growing up in it and around it as often as I was, gave me the comfort and knowledge at any early age to believe that I could do it if I wanted to.  Thanks Mom and Dad for always being there for me and letting me make this decision to make the business my own.  And Thank You Desi for always being there for me (and our family) and supporting me when I need it most!