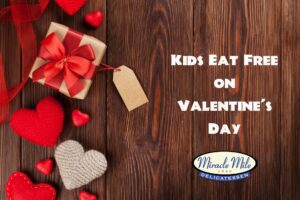 Well… that time of year of officially arrived.  The day that some people love (it's my mother's favorite "holiday"), and the day that some people despise.  VALENTINE'S DAY!!  We have a special promotion to celebrate a Valentine's Dinner with the whole family… rather than spending a ton of cash at a fancy restaurant with overpriced food and a set menu. Kid's will EAT FREE with the purchase of any sandwich or entree purchase!  1 free kid's meal (children under 12 please) per sandwich or entree purchase.  This special will be taking place from 11am-7pm on Monday, February 14th at Miracle Mile! So be sure to stop by and celebrate the special day with the entire family!
Miracle Mile really is the ideal place to share this special holiday with the entire family.  No Set Menu. No Outrageous Prices.  Just quality food, a relaxed ambiance and a friendly staff to take care of you while you dine!  If you would rather enjoy Valentine's Day at home, stop by and pickup some food for takeout so you don't have to cook or do any dishes!
After Valentine's Day is over, we get to focus on Spring and St. Paddy's Day (Miracle Mile's Favorite Holiday)!  We aren't too far away from celebrating St. Paddy's Day.. March 17th!  It falls on a Thursday this year (somewhat the middle of the week)… so if you aren't planning on getting too crazy, Miracle Mile is the perfect place for a great work lunch or family dinner to celebrate the special day!  Keep it in mind…. I know I am a little premature about mentioning the holiday, but it's just too exciting not to talk about in February!
Hopefully we will see you all in this week for our Valentine's Special!
Once again, Happy Valentine's Day to you all and hope to see you soon!
- JG
Hey Everyone!  Well… Summer has officially arrived! School is out, the weather is definitely warm, and swim suit season has begun.  The Miracle Mile Team is constantly searching for new ways to revamp our menu for the seasons.  This Summer, we are introducing a few new items for the Summer that should get those "Salad Lovers" and "Healthy Eaters" something to chat about...
The Fiesta Salad (pictured above on the left), is an incredible salad that our staff fell in love with! We hope you do too… With fresh romaine, cucumber, tomato, grilled chicken, red onion, avocado, and tricolor tortilla strips..ALL tossed together in a homemade chipotle ranch dressing, this salad contains a lot of color and a bite!  With loads of flavors and color, this salad is truly a party for your mouth… hence the name, "Fiesta Salad".
The Manhattan Kale Salad (pictured above on the right), is another very flavorful salad that is both delicious and incredibly healthy!  Fresh kale, cucumber, tomato, feta cheese, breadcrumb and tossed with our Balsamic Vinaigrette dressing, this salad has more iron than beef… and did I mention that it's both tasty and healthy?
We will be rolling these new salads out, as well as some of other new menu items very soon!  Miracle Mile will also be adding a new chicken breast sandwich, The Brooklyn Chicken,  a new version of an old favorite, Papa's Club, and an awesome NEW BURGER WITH PASTRAMI ON IT called The Mile Burger.  Stay tuned for more information on these great new items.
Celebrating our 65th Year of Business this year, it's seemingly difficult to get people to try new things at our establishment.  It seems that most of our customers are so used to ordering the same thing on our menu, (i.e. The Straw, The New Yorker, The Combo) that they forget that we offer a wide variety of options… Phenomenal Burgers, Fresh Salads & Homemade Entrees are just a few of our various menu items that we typically aren't known for, simply because people are a creature of habit and like to order what they know that they already love.  I am the same type of person when I go out to eat, so I cannot blame most of our customers for ordering like that…but for some reason, it's still a very interesting psychological "people characteristic" to analyze as a business owner.  TRY SOMETHING NEW PEOPLE! 🙂
My next blog will feature some more fantastic menu items, so be sure to stay tuned!  Happy Eating!
JG
We have come a long way since this photo was taken over 30 years ago!  Again, I am very proud to say that we are celebrating our 65th Year of business in the Valley… We just had a family of 3 generations in our establishment, and it is just such a touching moment for me to see other families carrying on the Miracle Mile tradition with their own.
We have been fortunate enough to be serving the Valley families for six decades, and with that has come a lot of tradition for families to bring their children and their children's children to our establishment to satisfy their craving for a great family meal.  We are so fortunate to be a part of so many families lives, and it is always so great to hear about the fond memories that people have about our various locations that we have occupied.
Chris-Town is the location that I personally hear the most about.  I remember being a kid myself, doing my homework on a pickle bucket behind the dessert case after school while my parents finished up their work for the day.  When I got a little bit older, I came to work on Saturday mornings with my Mom and Dad at 7am, and worked with my Aunt Maria serving coffee to our breakfast diners!  I felt really cool being at work because none of my other friends were able to do that on a weekly basis with their parents. In time, I got to help out on the Hot Dog grill serving hot dogs, making fresh hamburger patties and smashing in between two pieces of wax paper with massive china plates… THOSE WERE THE TIMES!  I have very fond memories of Chris-Town and it was like a second home to me for several years of my childhood.
Now as a father myself, I get to share more memories with my children. I love it when they come to visit me at work because I remember going to visit my parents at work and how much I loved interacting with the other employees.  My kids do the same thing and I love to see that.  It's pretty fun to see how they interact at such a young age in an environment that  they feel comfortable in… much like I did as a kid at Chris-Town.
I would love to hear about some of your memories about Miracle Mile over the last 65 Years! Please feel free to comment on this blog or on Facebook & Twitter about your Miracle Mile memories and let us know what you love most about our business!
Thank you so much for reading and I hope to hear about some of your fondest Miracle Mile memories soon!
Happy Thanksgiving Everyone!  From our family to yours, we hope that everyone has a very happy and healthy holiday! Miracle Mile will be CLOSED on Thanksgiving Day so that our employees can share the holiday with their families.  We believe that there is a special time for family, and Thanksgiving Day is definitely one of those times.
As much as we would like to be open on that day to serve our Famous Oven-Roasted Turkey to our incredible customers, it has been a Miracle Mile tradition for 65 years that we all share that day with our families.  We will be open until 8pm at both locations to serve our customers.  We will serve over 400 pounds of our oven-roasted turkey on the day before Thanksgiving.  Turkey will be served on a first come, first serve basis, and typically all of the turkey has been sold by 6pm...so be sure to arrive early if you want turkey the day before Thanksgiving!
Freshly baked pies are also available for purchase! Please call either Miracle Mile location in advance to reserve ANY pie or cake for the special holiday.  Of course our pies and cakes are baked fresh daily and are far superior to most grocery store pies.  Pie varieties available include: Pumpkin, Apple, Pecan, Lemon Meringue, Cherry, Blueberry, Coconut Meringue and Boston Creme.  If you are in the mood for a BIGGER piece, perhaps consider one of our incredible Carrot Cakes, Chocolate Fudge Cake or New York Style Cheesecake as something a little different than the "norm".
Once again, we would like to thank our awesome customers for allowing us to serve the community for six decades, and wish you all a very Happy Thanksgiving!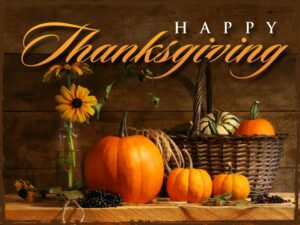 Hello Everyone!
I am VERY pleased to announce that the NEW MIRACLE MILE MENU HAS  FINALLY ARRIVED!  Beginning today, we have 11 NEW MENU ITEMS...              New Sandwiches, New Salads, New Healthy Options & New Burgers!  This is pretty much the first time in a long time that we have made these changes to our famous Miracle Mile Menu.... but I thought we were do!
The New Sandwiches include the Turkacado, TurkeyCran, Classic BLT, Bronx Chicken Sandwich, and The Times Square Cheesesteak (yeah say that 3 times really fast without saying "cheesecake")! Times Square Cheesesteak, Times Square Cheesesteak, Times Square Cheesecake.... Damn!  Okay... onto the salads!
The New Salads include The Staten Island Salad, The SoHo Salad, and the Straight Up Chicken Caesar Salad! 
The New Burgers include the Broadway Burger, The Empire State Burger, and the Ellis Island Burger!
Although I am not going to go into detail on all of these items because I honestly want you to explore the site for yourself and find them and salivate over the descriptions, I can honestly say that I am very proud of the new items and have a lot of confidence in saying that I think that they all bring a new value to our menu and I am very excited for you all to try them.  Approximately 80% of our customers already know what they are going to order for lunch or dinner before walking into our establishments because they have been going to Miracle Mile for most of their childhood and adult lives... However I think these new menu items will hopefully develop into new favorites for both new and longtime customers!
By frequent customer request and after several product tests, we found a consistent avocado that is fresh and that will accompany our sandwiches and salads nicely!  Although this product is often expensive and difficult to maintain, we have been working diligently with our produce suppliers to find a great avocado that we will be proud to serve consistently...because Miracle Mile is built on consistently and we NEVER want to disappoint our customers... EVER!! A very exciting and tasty addition to our menu for sure!
Several of our new menu items include other items that we have had on our Miracle Mile Menu for several years.  However we have been working on mixing some items together and making the most of the quality that we serve on a daily basis!  Several minds have been working on this menu for some time now and we are very happy that the time has come to be able to share with you all. I would like to extend a special THANK YOU to Albert Stolarski and his "handy helper", Mr. Jacinto, at Albert's Signworks Inc. for all of their help with creating the new menu boards and putting up with our crazy Miracle Mile Family.  Albert has been working our family since 1996 and does amazing work with signs and other incredible pieces that any home or restaurant may need.  I would highly recommend him if you are in the need for any signage for any occasion.  And Thank You Mom & Dad for staying late and helping Albert & Jacinto late into the night!
I would also like to thank my management staff.... Troy, Roger, Rafael, Miguel, and Daly, for all of their patience and help with creating, perfecting and executing these new menu items for our customers! We are ready to play and share these exciting things with our customers thanks to you all!
We haven't done a lot of advertising these new items yet... but I would like to thank the "Power of Social Media" for helping us get the word out and allowing our customers to share their thoughts with us on Facebook, Twitter, Foursquare, Instagram & YouTube! You are all amazing people and we truly appreciate your feedback and sharing your MMD experiences with others.
Finally, I would like to once again thank my family.  Desi, Sophie and Jack... I work hard every day for you all.  You are my inspiration and my restaurant obsession and constant seeking for greatness is to make you proud! The foundation for a better Miracle Mile starts today and hopefully things only get better from this point forward!  Thank you for always supporting me and being there for me when I need you most.  Your love, hugs, kisses and laughs are the reason I love living every day.
Okay... I think I am done with all of my cheesiness for now. Meh!!!
Search the site... Come in and try the new items and enjoy! Let me know your thoughts when you have the chance! I look forward to hearing from you all soon.
Cheers,
JG
Hello again my friends! I know it has been awhile and you thought I've disappeared off of the face of the earth... Not so fast!  We have been going through quite a few internal changes at Miracle Mile (all positive), so unfortunately, I haven't been able to be quite "on top of things" with keeping up with the blog as I would like to!
One of our great additions to our establishment is the implementation of a NEW WEEKLY SANDWICH SPECIAL!  We received a lot of feedback from our loyal customers in regards to having an incentive to try new things at Miracle Mile because a lot of our customers get into a routine and just order the same thing over and over again because they don't want to stray away from something that they already know that they like.  That being said, EVERY Tuesday, we will be rolling out a NEW $6.99 Sandwich of the Week that will be highlighted on our Craving Club emails (if you aren't a part of the Craving Club yet, signup on our homepage to receive all of our exclusive offers and news!), as well as on our website and in our restaurants!  Each week will be a different sandwich that we will highlight and give people the opportunity to try something NEW at a very reasonable price!
This is something that we have never tried before, but we are definitely looking forward to giving our customers the exposure to our wide variety of menu options that we offer...because we are MORE than just "Pastrami and Fries"!  We will also be introducing some NEW menu items as well in a few weeks so we will be keeping you posted on that as well as the time gets closer!  We will be rolling out some new salads and healthy sandwich options, as well as some new burgers and chicken dishes as well!  So this is a very exciting time for us as we head into our wonderful weather season!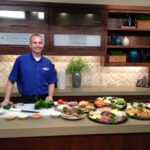 Troy Green on the set of Sonora Living!
Another exciting addition to our Camelback Colonnade team is our New General Manager, Mr. Troy Green! Troy has been an amazing asset to the Miracle Mile Team since August 2009! Troy was caring for our Scottsdale Promenade location for three years before his move to the Camelback Colonnade location was needed.  Troy has been in the restaurant industry for over 15 years and has been an amazing addition to the Miracle Mile Team!  His restaurant knowledge and love for the industry and our Miracle Mile family makes him a true team player and a vital ingredient to making our establishments function at 100% efficiency on a daily basis! Troy is originally from Nebraska, but moved to Phoenix and worked with several different restaurants before coming to the Miracle Mile Team.  We are sure happy that he decided to be a part of our family in 2009, and so thankful for everything he has done for our estabishments.  Be on the lookout for Troy's smiling face at the Camelback Colonnade location Tuesday through Saturday! 
Thanks for reading and we look forward to seeing you all soon!
Over the last 3 months, it been challenging as a "business owner" to have a positive outlook on where our economy is headed and how we can possibly see an end to this terrible economic state.  Summers in Phoenix for most people are obviously unbearable with the 110 + degree temps...why leave the air conditioned building if you don't have to right?  People eat less during the summer because it is really hot out, and apparently people don't eat as much when it is hot out (unfortunately not the case for me personally because I love food.)  It can be frustrating to look at the big picture and focus on all of the small details that can drive a restaurant owner crazy with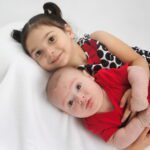 increases in food prices on our end, that unfortunately sometime in the near future, we will have to pass on a small percentage onto the customer (which is the absolute last option for our business to have to do, but necessary at this state to stay in business). But I truly believe that there is a light at the end of this dark and long tunnel.  Upon popular request, I have included an updated photo of my children, which I feel is a perfect compliment to this topic because they are my light(s), along with my wife.  They are the ones who keep me motivated to stay positive and remember who and why we as Americans work as hard as we do!  Children are a constant reminder of the small things in life that can overshadow the bad things with a simple smile, a hug, a kiss or in Baby Jack's case... a fart (he's a very gassy boy)!
I want to believe that with a positive attitude and mindset, we will prevail over this together. It's not the people in Washington that control the American destiny, it's the great people of this country that control it! It's working HARD (not hardly working and checking Facebook 20 times a day at your desk).  I know this has absolutely nothing to do about the food business but with these "National Conventions" taking place all of last week and this week,  I have to believe that it's not ONE man who will change how our people of this country choose to live their lives...it is the people of this country who will determine how they want to see their future, their dreams, their destiny!  The United States of America did not become the world's most powerful country because of Facebook & Twitter...but the hard work, determination and dedication to achieve a goal or fulfill a dream!
My goal (like the goals of many middle class American people) is to be able to provide a comfortable lifestyle for my family and for them to be proud of me.  My wife has the most difficult job in the world and does it incredibly well as a fantastic mother to our two beautiful children.  She loves being a Mom and I am happy that she is able to teach our children at an early age, what hard work is how you have to work hard in order to succeed.  I know that there are millions of moms, just like my wife, that teach their children the meaning of hard work everyday... I just hope that never changes.
Sometimes I am embarrassed of my generation of people (20-30 years old), that expect life to be given to them on a silver platter...to be able to do the least amount of work possible for the largest paycheck possible....That is NOT how I was raised and I hope this thought process does not continue, or else we are all in trouble.
This is probably a terrible blog post that just jumps around and rants on different tangents I know. But I felt like I needed to get this off of my chest and I know when my brain is in better spirits, I will be able to write a more efficient post that will have a set purpose and perhaps be a little more motivational!  Work hard people!!! If we work hard, things will turn around... If you don't want to work hard, we are going to be in this dark tunnel for a long while!  Be appreciative of the little things (like your kids and family), work hard, put your nose to the grind and things are bound to get better soon! Keep your head up, stay positive and be the BEST person you can be from the second you get out of bed, until the moment you get back in it (hopefully that's not after you hit the snooze button first thing in the morning)!
People often ask me if I was "forced" to come into the family business or if I ever felt "obligated" to take over the restaurants.  My response is the same to everyone..."No".  My parents never pressured me to come into the family business or tried to convince or bribe me to do it. Coming into the family business was 100% my choice.
I feel fortunate to be able to say that my parents never pressured me to join the family business because I know that there are many people out there that aren't given a choice...Some aren't even able to further their education or follow a dream because they are forced by their parents to do something "that they were born to do".  In some respects, I feel like I was born to run the family business at some point in my life.  I am an only child and really the only person of my generation in my family that came into business after college.  I graduated from a university with a degree in Business Administration.  I had the opportunity to work overseas for a very well-established worldwide brand, and explore other employment options before coming "home".  Thing is, I always felt comfortable behind the counter, taking care of customers and becoming a Miracle Mile staff member at a very early age.
I have vivid memories of taking a bottle of Windex and paper towel and cleaning the dessert and deli cases at our Chris-Town location.  Sitting on a pickle bucket behind the counter and doing homework while my mom finished a catering order late in the afternoon was also an often occurrence for me.  While I thought this was considered "normal", I learned later in life that it obviously was not.  However, that was my upbringing and I was always around the family business because my parents were always around the family business...because of their hard work and dedication, Miracle Mile is still around today!
When my grandfather (my mother's father and the founder of Miracle Mile) was at the age that most people are looking to retire, it was my parents who stepped up and took the family business to another level!  They worked thousands of early mornings and late nights, which was why I was at the Chris-Town location often growing up.  But it was fun for me, as a kid, having a really cool business as a fun "playground" of sorts and having an extended family of great employees that accepted and loved me as their own.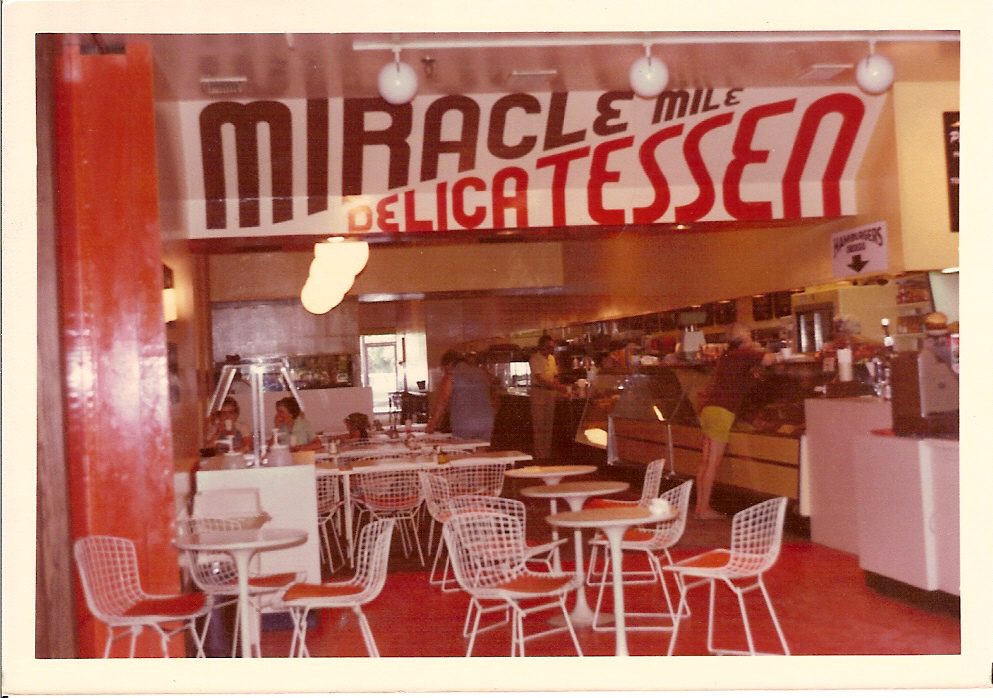 (The photo above is the Miracle Mile location at Chris-Town Mall circa 1980!)
I think having that experience as a child, constantly being around the family business, getting to know our regular customers at an early age, standing next to my Aunt Maria while serving coffee behind the counter on Saturday mornings (while standing on a milk crate to see over the counter), are all a result of why I love the business that I chose as my career.  Now having children of my own, I know how hard it must have been for my parents to run a successful business while also attempting to establish a strong family foundation as well.
The restaurant business is by far one of the toughest businesses out there, and finding that balance between work and family is quite difficult.  I have an incredibly supportive wife (that isn't a part of the business now because she has the toughest job in the world in taking care of our two children) that knows how hard I strive to make our family business successful everyday.  Creating the time for the business and making the time for family I am learning is just as important. I know that my parents didn't have much of a choice other than to bring me back to work with them after picking me up from school, but them doing that gave me an appreciation at a very early age of what they did on a daily basis and how hard they worked.
I wouldn't recommend family members to start a new business together because it takes a special family to do so.  I am not saying that my family is perfect by any means because we have our daily battles on business decisions as well.  However, without a true appreciation and definition of what each person's role is, problems can arise very quickly on several different spectrums. (A word from the wise: Remember that the family relationship is always more important than the business relationship between family members.)  My grandfather told me something at an early age because people were constantly telling him how he should change the business and it drove him nuts.  He said, "Josh, ANYONE who eats thinks that they can run a restaurant!" I didn't really understand what he meant until I came into the business and was running our Arrowhead location.  Some people wish to express their opinions of how you should operate things or change menu items which is all fine.  Let them say their peace.  However, it is what YOU truly believe and what your heart tells you that really matters.
I am blessed to have the opportunity to now operate the family business and I hope that I can take it to another level in the near future. I am fortunate to have an incredibly supportive family and staff that knows how hard it is to run a business and are willing to do whatever it takes to ensure that the business is successful. As I mentioned earlier, I was never forced to come into this business, but me growing up in it and around it as often as I was, gave me the comfort and knowledge at any early age to believe that I could do it if I wanted to.  Thanks Mom and Dad for always being there for me and letting me make this decision to make the business my own.  And Thank You Desi for always being there for me (and our family) and supporting me when I need it most!