Hey Everyone!  Well… Summer has officially arrived! School is out, the weather is definitely warm, and swim suit season has begun.  The Miracle Mile Team is constantly searching for new ways to revamp our menu for the seasons.  This Summer, we are introducing a few new items for the Summer that should get those "Salad Lovers" and "Healthy Eaters" something to chat about...
The Fiesta Salad (pictured above on the left), is an incredible salad that our staff fell in love with! We hope you do too… With fresh romaine, cucumber, tomato, grilled chicken, red onion, avocado, and tricolor tortilla strips..ALL tossed together in a homemade chipotle ranch dressing, this salad contains a lot of color and a bite!  With loads of flavors and color, this salad is truly a party for your mouth… hence the name, "Fiesta Salad".
The Manhattan Kale Salad (pictured above on the right), is another very flavorful salad that is both delicious and incredibly healthy!  Fresh kale, cucumber, tomato, feta cheese, breadcrumb and tossed with our Balsamic Vinaigrette dressing, this salad has more iron than beef… and did I mention that it's both tasty and healthy?
We will be rolling these new salads out, as well as some of other new menu items very soon!  Miracle Mile will also be adding a new chicken breast sandwich, The Brooklyn Chicken,  a new version of an old favorite, Papa's Club, and an awesome NEW BURGER WITH PASTRAMI ON IT called The Mile Burger.  Stay tuned for more information on these great new items.
Celebrating our 65th Year of Business this year, it's seemingly difficult to get people to try new things at our establishment.  It seems that most of our customers are so used to ordering the same thing on our menu, (i.e. The Straw, The New Yorker, The Combo) that they forget that we offer a wide variety of options… Phenomenal Burgers, Fresh Salads & Homemade Entrees are just a few of our various menu items that we typically aren't known for, simply because people are a creature of habit and like to order what they know that they already love.  I am the same type of person when I go out to eat, so I cannot blame most of our customers for ordering like that…but for some reason, it's still a very interesting psychological "people characteristic" to analyze as a business owner.  TRY SOMETHING NEW PEOPLE! 🙂
My next blog will feature some more fantastic menu items, so be sure to stay tuned!  Happy Eating!
JG
Hello again my friends! I know it has been awhile and you thought I've disappeared off of the face of the earth... Not so fast!  We have been going through quite a few internal changes at Miracle Mile (all positive), so unfortunately, I haven't been able to be quite "on top of things" with keeping up with the blog as I would like to!
One of our great additions to our establishment is the implementation of a NEW WEEKLY SANDWICH SPECIAL!  We received a lot of feedback from our loyal customers in regards to having an incentive to try new things at Miracle Mile because a lot of our customers get into a routine and just order the same thing over and over again because they don't want to stray away from something that they already know that they like.  That being said, EVERY Tuesday, we will be rolling out a NEW $6.99 Sandwich of the Week that will be highlighted on our Craving Club emails (if you aren't a part of the Craving Club yet, signup on our homepage to receive all of our exclusive offers and news!), as well as on our website and in our restaurants!  Each week will be a different sandwich that we will highlight and give people the opportunity to try something NEW at a very reasonable price!
This is something that we have never tried before, but we are definitely looking forward to giving our customers the exposure to our wide variety of menu options that we offer...because we are MORE than just "Pastrami and Fries"!  We will also be introducing some NEW menu items as well in a few weeks so we will be keeping you posted on that as well as the time gets closer!  We will be rolling out some new salads and healthy sandwich options, as well as some new burgers and chicken dishes as well!  So this is a very exciting time for us as we head into our wonderful weather season!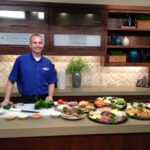 Troy Green on the set of Sonora Living!
Another exciting addition to our Camelback Colonnade team is our New General Manager, Mr. Troy Green! Troy has been an amazing asset to the Miracle Mile Team since August 2009! Troy was caring for our Scottsdale Promenade location for three years before his move to the Camelback Colonnade location was needed.  Troy has been in the restaurant industry for over 15 years and has been an amazing addition to the Miracle Mile Team!  His restaurant knowledge and love for the industry and our Miracle Mile family makes him a true team player and a vital ingredient to making our establishments function at 100% efficiency on a daily basis! Troy is originally from Nebraska, but moved to Phoenix and worked with several different restaurants before coming to the Miracle Mile Team.  We are sure happy that he decided to be a part of our family in 2009, and so thankful for everything he has done for our estabishments.  Be on the lookout for Troy's smiling face at the Camelback Colonnade location Tuesday through Saturday! 
Thanks for reading and we look forward to seeing you all soon!
Over the last 3 months, it been challenging as a "business owner" to have a positive outlook on where our economy is headed and how we can possibly see an end to this terrible economic state.  Summers in Phoenix for most people are obviously unbearable with the 110 + degree temps...why leave the air conditioned building if you don't have to right?  People eat less during the summer because it is really hot out, and apparently people don't eat as much when it is hot out (unfortunately not the case for me personally because I love food.)  It can be frustrating to look at the big picture and focus on all of the small details that can drive a restaurant owner crazy with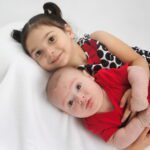 increases in food prices on our end, that unfortunately sometime in the near future, we will have to pass on a small percentage onto the customer (which is the absolute last option for our business to have to do, but necessary at this state to stay in business). But I truly believe that there is a light at the end of this dark and long tunnel.  Upon popular request, I have included an updated photo of my children, which I feel is a perfect compliment to this topic because they are my light(s), along with my wife.  They are the ones who keep me motivated to stay positive and remember who and why we as Americans work as hard as we do!  Children are a constant reminder of the small things in life that can overshadow the bad things with a simple smile, a hug, a kiss or in Baby Jack's case... a fart (he's a very gassy boy)!
I want to believe that with a positive attitude and mindset, we will prevail over this together. It's not the people in Washington that control the American destiny, it's the great people of this country that control it! It's working HARD (not hardly working and checking Facebook 20 times a day at your desk).  I know this has absolutely nothing to do about the food business but with these "National Conventions" taking place all of last week and this week,  I have to believe that it's not ONE man who will change how our people of this country choose to live their lives...it is the people of this country who will determine how they want to see their future, their dreams, their destiny!  The United States of America did not become the world's most powerful country because of Facebook & Twitter...but the hard work, determination and dedication to achieve a goal or fulfill a dream!
My goal (like the goals of many middle class American people) is to be able to provide a comfortable lifestyle for my family and for them to be proud of me.  My wife has the most difficult job in the world and does it incredibly well as a fantastic mother to our two beautiful children.  She loves being a Mom and I am happy that she is able to teach our children at an early age, what hard work is how you have to work hard in order to succeed.  I know that there are millions of moms, just like my wife, that teach their children the meaning of hard work everyday... I just hope that never changes.
Sometimes I am embarrassed of my generation of people (20-30 years old), that expect life to be given to them on a silver platter...to be able to do the least amount of work possible for the largest paycheck possible....That is NOT how I was raised and I hope this thought process does not continue, or else we are all in trouble.
This is probably a terrible blog post that just jumps around and rants on different tangents I know. But I felt like I needed to get this off of my chest and I know when my brain is in better spirits, I will be able to write a more efficient post that will have a set purpose and perhaps be a little more motivational!  Work hard people!!! If we work hard, things will turn around... If you don't want to work hard, we are going to be in this dark tunnel for a long while!  Be appreciative of the little things (like your kids and family), work hard, put your nose to the grind and things are bound to get better soon! Keep your head up, stay positive and be the BEST person you can be from the second you get out of bed, until the moment you get back in it (hopefully that's not after you hit the snooze button first thing in the morning)!