Hello again my friends! I know it has been awhile and you thought I've disappeared off of the face of the earth... Not so fast!  We have been going through quite a few internal changes at Miracle Mile (all positive), so unfortunately, I haven't been able to be quite "on top of things" with keeping up with the blog as I would like to!
One of our great additions to our establishment is the implementation of a NEW WEEKLY SANDWICH SPECIAL!  We received a lot of feedback from our loyal customers in regards to having an incentive to try new things at Miracle Mile because a lot of our customers get into a routine and just order the same thing over and over again because they don't want to stray away from something that they already know that they like.  That being said, EVERY Tuesday, we will be rolling out a NEW $6.99 Sandwich of the Week that will be highlighted on our Craving Club emails (if you aren't a part of the Craving Club yet, signup on our homepage to receive all of our exclusive offers and news!), as well as on our website and in our restaurants!  Each week will be a different sandwich that we will highlight and give people the opportunity to try something NEW at a very reasonable price!
This is something that we have never tried before, but we are definitely looking forward to giving our customers the exposure to our wide variety of menu options that we offer...because we are MORE than just "Pastrami and Fries"!  We will also be introducing some NEW menu items as well in a few weeks so we will be keeping you posted on that as well as the time gets closer!  We will be rolling out some new salads and healthy sandwich options, as well as some new burgers and chicken dishes as well!  So this is a very exciting time for us as we head into our wonderful weather season!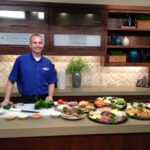 Troy Green on the set of Sonora Living!
Another exciting addition to our Camelback Colonnade team is our New General Manager, Mr. Troy Green! Troy has been an amazing asset to the Miracle Mile Team since August 2009! Troy was caring for our Scottsdale Promenade location for three years before his move to the Camelback Colonnade location was needed.  Troy has been in the restaurant industry for over 15 years and has been an amazing addition to the Miracle Mile Team!  His restaurant knowledge and love for the industry and our Miracle Mile family makes him a true team player and a vital ingredient to making our establishments function at 100% efficiency on a daily basis! Troy is originally from Nebraska, but moved to Phoenix and worked with several different restaurants before coming to the Miracle Mile Team.  We are sure happy that he decided to be a part of our family in 2009, and so thankful for everything he has done for our estabishments.  Be on the lookout for Troy's smiling face at the Camelback Colonnade location Tuesday through Saturday! 
Thanks for reading and we look forward to seeing you all soon!